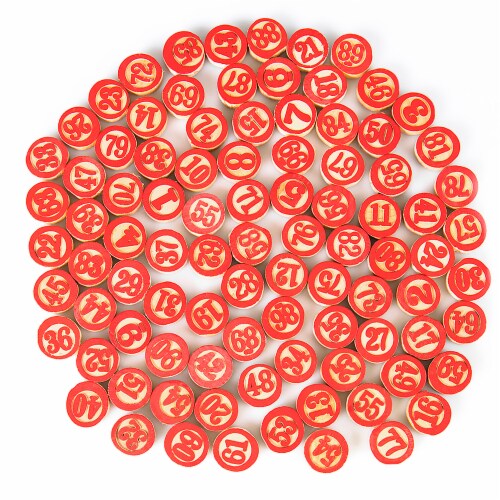 Hover to Zoom
Wooden Tombola Tiles (90 pcs.)
Product Details
Vintage Tombola Tombolini Tiles!
Bring home the classic tombolini tiles from the traditional Italian bingo variant, Tombola! Each set of tiles comes with 90 tiles, numbered 1-90, for adding to Tombola, Bingo, and other games. These tiles are made of cuts of natural wood, numbers painted red to match traditional Tombola, and have a completely blank underside to be used as bingo chips. Tombola tiles or "tombolini" are traditionally used to cover all spots on the "tabellone" or calling board during play and are usually kept in a container, raffle drum, or small pouch. There are 90 spots on each calling board, hence the numbers 1-90 being on them. Each numbered tile measures 3/4", standard size for Tombola games and calling boards. The mini pieces are meant to be this small as they must fit onto a standard Tombola board on each of the 90 spots.
Tombola History
Tombola is the traditional Italian game of chance loved by generations and cherished by families during the holidays. The origin dates as far back as four centuries ago in Naples, when gambling was popular among the citizens but was frowned upon by the church. Thus, a new way to play the lottery at home in secret was invented! And this game (think Bingo with more chances to win, more rounds, and more hilarity!)
Why You'll Love It
Tombola, while traditionally played during holidays and festivals, is a classic party game that can be played during any occasion (or lack thereof). Add these tiles to any Tombola game, replace missing pieces from our Tombola set, or make your own home game! It's the perfect large group game for family game nights, weddings, banquets, Christmas, and other holidays. These can be used for games of bingo and have an underside without any numbers or paint. They can even be added to scrapbooking, jewelry making, and home décor crafts. Have your own game ideas? Add these pieces as DIY board game essentials.
---