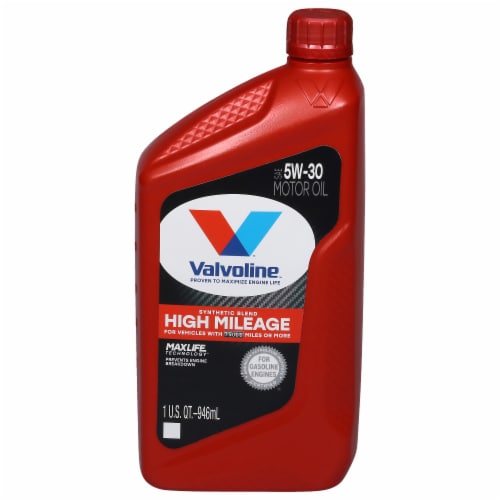 Hover to Zoom
Hover to Zoom
Hover to Zoom
Valvoline MaxLife High Mileage 5W-30 SAE Motor Oil
Purchase Options
Located in GM Automotive - Motor Oil and Filters
Product Details
Formulated for higher mileage engines. Specially formulated to help: condition seals and prevent leaks; improve fuel economy and oil consumption. Higher mileage engines may perform differently than newer ones - engines lose compression, gaskets become brittle, rings wear and valves do not seal tightly. This contributes to increased oil consumption, reduced gas mileage, decreased engine performance and a more rapid oil breakdown. Formulated differently: MaxLife is the first motor oil designed for higher mileage engines. MaxLife is a blend of premium base oils with: a seal conditioning agent, extra cleaning agents, additional anti-wear additives and friction modifiers. Specially formulated to help: condition engine seals, prevent leaks, minimize oil consumption, reduce friction, provide easier cold starts, improve fuel economy, maximize power output, resist thermal breakdown and reduce deposit formation. Valvoline's MaxLife Motor Oil is safe for use in new and rebuilt engines and will not void new car warranties. Exceeds the engine performance requirements of API SJ, SH, SG, SF and previous gasoline categories.
For gasoline engines
Synthetic blend motor oil
For engines over 75,000 miles
In-Package Weight: 30.95 Ounce
In-Package Dimensions: 4.12 Inch x 8.87 Inch x 2.6 Inch
Warning: 24-Hour Emergency Number: 800-274-5263. Avoid prolonged or repeated skin contact with used motor oil. Used motor oil has been shown to cause skin cancer in laboratory animals. Thoroughly wash exposed areas with soap and water.
Model: VV1556
Quantity: 1 Quart
Usage Instructions: Don't pollute. Conserve resources. Return used oil to collection centers.
---