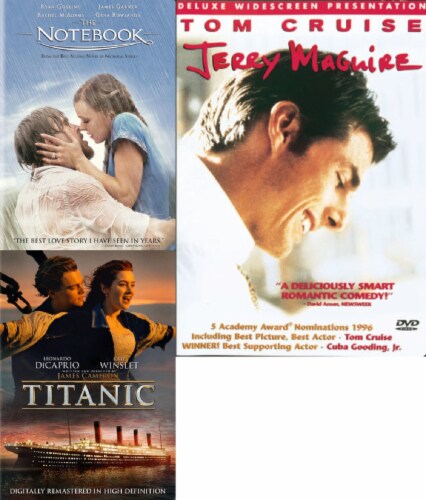 Hover to Zoom
The Notebook / Titantic / Jerry Maguire DVD Bundle
Product Details
Notebook - In 1940s South Carolina, mill worker Noah Calhoun (Ryan Gosling) and rich girl Allie (Rachel McAdams) are desperately in love. But her parents don't approve. When Noah goes off to serve in World War II, it seems to mark the end of their love affair. In the interim, Allie becomes involved with another man (James Marsden). But when Noah returns to their small town years later, on the cusp of Allie's marriage, it soon becomes clear that their romance is anything but over.
Titanic - James Cameron's Titanic is an epic, action-packed romance set against the ill-fated maiden voyage of the R.M.S. Titanic; the pride and joy of the White Star Line and, at the time, the largest moving object ever built. She was the most luxurious liner of her era -- the ship of dreams -- which ultimately carried over 1,500 people to their death in the ice cold waters of the North Atlantic in the early hours of April 15, 1912.
Jerry Maguire - When slick sports agent Jerry Maguire (Tom Cruise) has a crisis of conscience, he pens a heartfelt company-wide memo that promptly gets him fired. Desperate to hang on to the athletes that he represents, Jerry starts his own management firm, with only single mother Dorothy Boyd (Renee Zellweger) joining him in his new venture. Banking on their sole client, football player Rod Tidwell (Cuba Gooding Jr.), Jerry and Dorothy begin to fall in love as they struggle to make their business work.
---