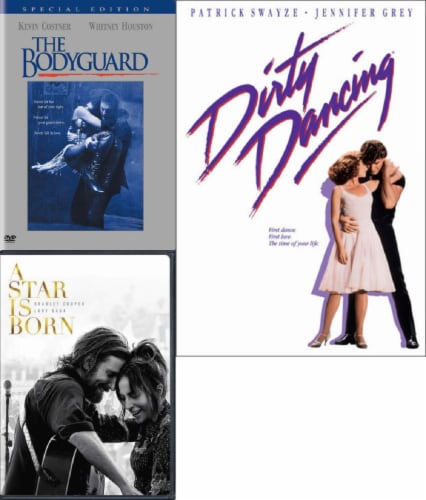 Hover to Zoom
The Bodyguard / A Star is Born / Dirty Dancing DVD Bundle
Product Details
This bundle includes the following on DVD:
Bodyguard - Best-selling pop diva Rachel Marron (Whitney Houston) has a stalker whose obsession has risen to the level of disturbing threats. At the urging of her manager (Gary Kemp), Rachel hires former secret service agent Frank Farmer (Kevin Costner) as her bodyguard. Initially resented and treated with disdain for his hard-nosed security procedures, Farmer soon becomes an integral part of Rachel's inner circle. As they spend more time together, client and protector become closer still.
Star is Born - Seasoned musician Jackson Maine discovers -- and falls in love with -- struggling artist Ally. She has just about given up on her dream to make it big as a singer until Jackson coaxes her into the spotlight. But even as Ally's career takes off, the personal side of their relationship is breaking down, as Jackson fights an ongoing battle with his own internal demons.
Dirty Dancing - Baby (Jennifer Grey) is one listless summer away from the Peace Corps. Hoping to enjoy her youth while it lasts, she's disappointed when her summer plans deposit her at a sleepy resort in the Catskills with her parents. Her luck turns around, however, when the resort's dance instructor, Johnny (Patrick Swayze), enlists Baby as his new partner, and the two fall in love. Baby's father forbids her from seeing Johnny, but she's determined to help him perform the last big dance of the summer.
---