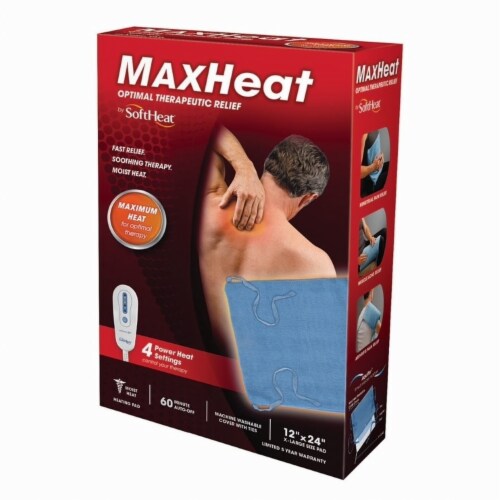 Hover to Zoom
SoftHeat Moist or Dry Heating Pad
Product Details
Soothing heat therapy: relaxes muscles and relieves joint pain and soreness; increases blood flow to the injury area and helps accelerate healing; warms and loosens stiff muscles before exercise. Timed-release moisture technology provides deeper heat penetration than dry heat alone. Moist heat is physician recommended. Provides consistent heat in the recommended therapeutic range. Eliminates spikes and maintains a more comfortable even heat.
Fast relief.
Soothing therapy.
3 power heat settings control your therapy.
Moist heat heating pad.
60 minute auto-off.
Machine washable cover.
12 x 15 inches large size pad.
Maximum heat for optimal therapy.
For: menstrual pain relief; muscle ache relief; arthritis pain relief.
Aquifer time-released moisture.
Actual color of cloth cover may vary from picture on package.

---