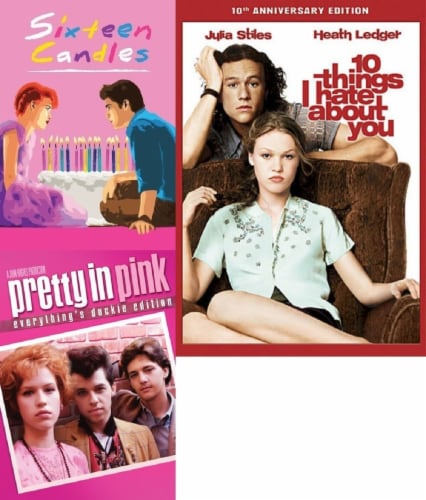 Hover to Zoom
Sixteen Candles / Pretty in Pink / 10 Things I Hate About You DVD Bundle
Product Details
This bundle includes the following on DVD:
Sixteen Candles - With the occasion all but overshadowed by her sister's upcoming wedding, angst-ridden Samantha (Molly Ringwald) faces her 16th birthday with typical adolescent dread. Samantha pines for studly older boy Jake (Michael Schoeffling), but worries that her chastity will be a turnoff for the popular senior. Meanwhile, Samantha must constantly rebuff the affections of nerdy Ted (Anthony Michael Hall), the only boy in the school, unfortunately, who seems to take an interest in her.
Pretty in Pink - Andie (Molly Ringwald) is an outcast at her Chicago high school, hanging out either with her older boss (Annie Potts), who owns the record store where she works, or her quirky classmate Duckie (Jon Cryer), who has a crush on her. When one of the rich and popular kids at school, Blane (Andrew McCarthy), asks Andie out, it seems too good to be true. As Andie starts falling for Blane, she begins to realize that dating someone from a different social sphere is not easy.
10 Things I Hate About You - Kat Stratford (Julia Stiles) is beautiful, smart and quite abrasive to most of her fellow teens, meaning that she doesn't attract many boys. Unfortunately for her younger sister, Bianca (Larisa Oleynik), house rules say that she can't date until Kat has a boyfriend, so strings are pulled to set the dour damsel up for a romance. Soon Kat crosses paths with handsome new arrival Patrick Verona (Heath Ledger). Will Kat let her guard down enough to fall for the effortlessly charming Patrick?
---