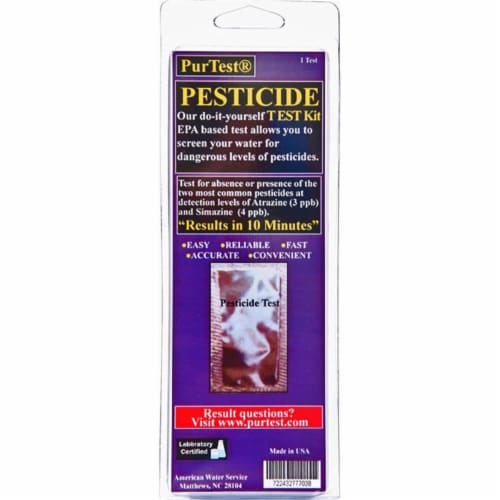 Hover to Zoom
PurTest PO801 Pesticide Test PB Format
Purchase Options
Sold and Shipped by
Product Details
The PurTest® Pesticide test detects two of the most Common pesticides used in the US at or below the EPA maximum contaminant level (atrazine-3 ppb and simazine - 4 ppb). Add water and test strip to test vial. After 10 minutes remove the strip from the vial and read the results for absence or presence of the two most common pesticides. 1 Absence / Presence test for pesticides in drinking water. All water tests are lab certified.
Instructions For Use:
. Open foil packet and take out all contents.. The packet contains (1) pesticide test strip, (1) test vial, (1) dropper pipette and a dessicant packet (to be discarded).. Collect water into a clean glass or directly into dropper pipette.. Using the dropper pipette, dispense one to two (1-2) drops of water into test vial.. Place the test strip into test vial, with arrows pointing DOWN.. Wait 10 minutes.
DO NOT DISTURB
strip or vial during this time. Blue lines will appear on strips.. Take strip out of the vial and read results.
Results:
.
Negative:
Bottom line (next to number 1) is darker than top line (next to number 2)..
Positive:
Top line (next to number 2) is darker than bottom line (next to number 1) or lines are equally dark.
NOTE: If no lines appear, or both lines are very light, the test did not run properly and the result is not valid. If a test strip shows a positive result, your water sample may contain pesticides at a toxic level.
Shipping & Return Information
---