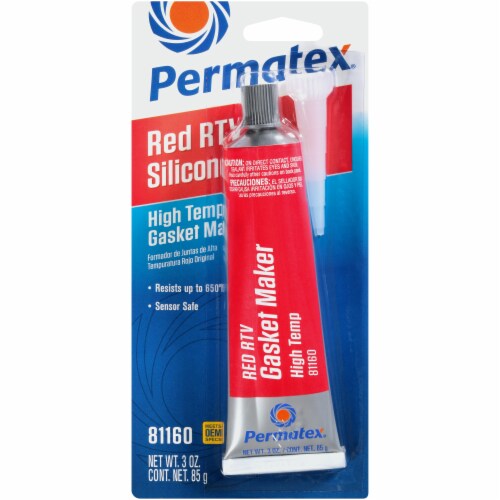 Hover to Zoom
Permatex® RTV High Temp Gasket Maker - Red
Purchase Options
Located in GM Automotive - Paint and Adhesives-x
Product Details
High Temp Red Gasket Maker was formulated to handle heavy-duty applications and extreme temperature conditions (intermittent -65F to 650F, (-54C to 343C)).
OEM specified
Resists up to 650F intermittent
For high-temperature applications
Warning: Contains: Polydimethylsiloxane, amorphous silica, petroleum distillates, iron oxide, methyltriacetoxysilane, ethyltriacetoxysilane, titanium dioxide, acetic acid. Uncured sealant causes eye and skin irritation. Use in a well-ventilated area. In case of skin contact, wipe off and wash with soap and water. In case of eye contact flush with water for 15 minutes; get medical attention. If swallowed, do not induce vomiting. If overcome by fumes, get fresh air. See safety data sheet for complete GHS hazard communication. Keep out of reach of children.
Usage Instructions: Directions: 1. For best results, surfaces should be clean and dry. 2. Cut nozzle and apply a continuous 1/16' to 1/4' (2 to 6mm) bead of silicone to one surface, surrounding all bolt holes. Assemble parts immediately while silicone is still wet. Finger tighten until material begins to squeeze out around flange. 3. Let dry for one hour then tighten to torque specifications. 4. Allow 24 hours to fully cure before filling with fluids or returning to service. 5. Replace cap after use.
---