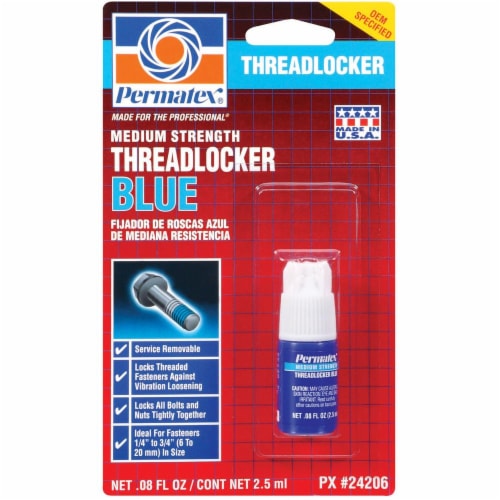 Hover to Zoom
Permatex® Medium Strength Threadlocker Blue
Purchase Options
Located in GM Automotive - Paint and Adhesives-x
Product Details
Permatex Medium Strength Threadlocker Blue locks threaded fasteners against vibration loosening, and locks all bolts and nuts tightly together. Recommended for fasteners 0.25 inch to 0.75 inch (6 to 20 mm) in size, torque (in pounds) break/prevail 115/53, and maximum temperature +300F (+149C). Threadlocker Blue has hundreds of do-it-yourself household and automotive uses; it can be used on all metal fasteners. Threadlocker Blue allows for disassembly or adjustment with normal hand tools and prevents corrosion for easy disassembly.
OEM specified
Locks threaded fasteners against vibration loosening
Made in the USA
Warning: Caution: contains methacrylate ester. Avoid eye and skin contact. For eye contact, flush with water for 15 minutes; call a physician. For skin contact, wash thoroughly with soap and water. If this product is used in an OSHA regulated workplace, consult the msds available from your distributor before use. Keep out of reach of children.
Model: 24206
Usage Instructions: Directions: 1. clean and dry parts using Permatex surface prep activator. 2. shake tube of medium strength threadlocker well before each use. 3. remove cap and snip nozzle tip. 4. apply medium strength threadlocker to threaded areas and assemble parts. Refer to technical data sheet for complete information.NOTE: Medium strength threadlocker works on metal parts. It is not recommended for plastics. Cured medium strength threadlocker must be sheared (hand tools will do) before parts will separate.
---