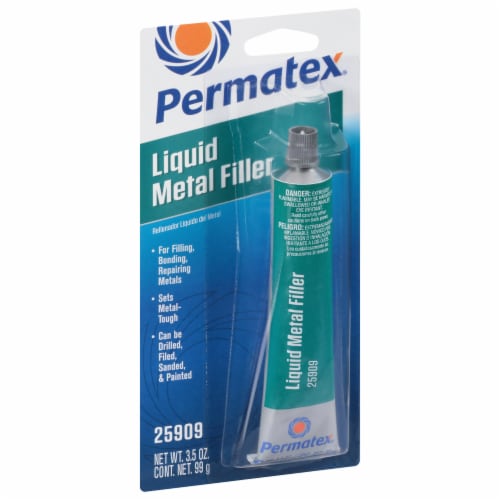 Hover to Zoom
Permatex® Liquid Metal Filler
Purchase Options
Located in GM Automotive - Paint and Adhesives-x
Product Details
Permatex® Liquid Metal Filler creates a metal-tough bond on metal and wood repairs. It can be drilled, filed, sanded, and painted.
For filling, bonding, and repairing metals
Sets metal-tough
Adhesive and sealant
Warning: Danger: Extremely flammable. May be harmful or fatal if swallowed or inhaled. Do not use or store near heat, sparks or open flame. Avoid contact with eyes and prolonged contact with skin. Do not breathe vapors. In case of eye contact, flush with water for 15 minutes; call a physician. For skin contact, wash with soap and water. If swallowed do not induce vomiting; call a physician immediately. If overcome by fumes, get fresh air. See safety data sheet for complete GHS hazard communication. Keep out of the reach of children.
Usage Instructions: Directions:1. Surfaces should be clean, dry and oil free. For best results, slightly roughen surface with sandpaper.2. Pierce the seal in the head of the tube and apply.3. Filler will dry in 3 to 4 hours. For deep holes, apply filler in 1/4' layers, allowing each layer to dry before adding the next.4. Use acetone or nail polish remover to remove excess.
---