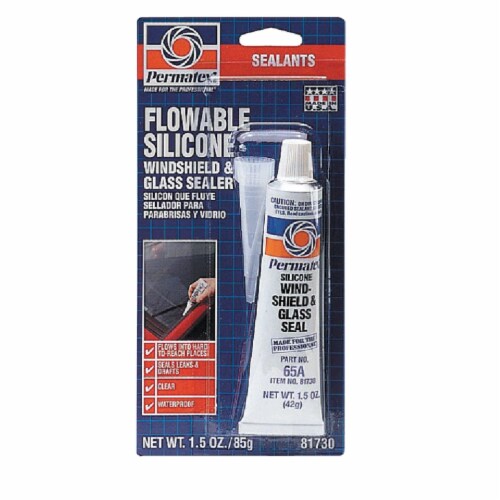 Hover to Zoom
Permatex® Flowable Silicone Windshield and Glass Sealeant
Purchase Options
Located in GM Automotive - Paint and Adhesives-x
Product Details
This specially formulated wicking-action silicone flows into hard-to-reach areas around glass forming a durable, waterproof seal that is resistant to weather, vibration, and most shop chemicals.
For sealing leaks and drafts
Dries clear
Waterproof
Warning: Caution: Uncured sealant causes eye and skin irritation. Use in a well-ventilated area. In case of skin contact, wipe off and wash with soap and water. In case of eye contact flush with water for 15 minutes; get medical attention. If swallowed, DO NOT induce vomiting. If overcome by fumes, get fresh air. See Safety Data Sheet for complete GHS hazard communication. KEEP OUT OF THE REACH OF CHILDREN.
Usage Instructions: DIRECTIONS: 1. Clean and dry all surfaces. 2. Pierce the seal on the head of the tube and apply sealant to the leak source. 3. Remove excess sealant and let dry for 1 hour. Full cure requires 24 hours. 4. Test for leaks or drafts. Reapply if necessary.
---