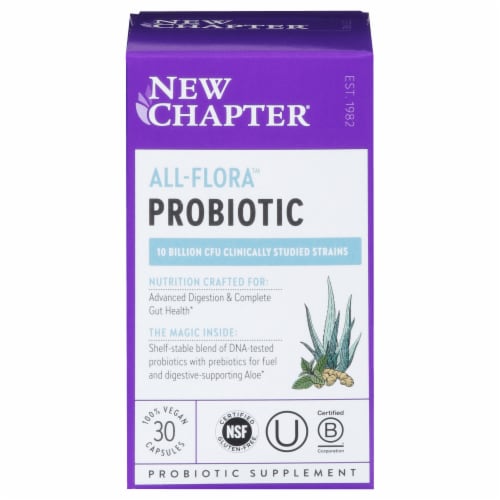 Hover to Zoom
New Chapter Complete Gut Health Probiotic All-Flora Vegan Capsules
Product Details
Immune & Digestive Support
Boosts immune defenses and promotes digestive health including bowel regularity and reducing occasional gas, bloating, diarrhea and constipation. Also ideal for travel & GI distress.
Rebalancing Yeast
Beneficial Saccharomyces boulardii (good yeast) helps reduce problematic yeast such as Candida, and replenishes healthy gut flora.
Complete Pre-, Pro- & Postbiotics
Fuels probiotic growth with nourishing prebiotics from fermented Aloe powder, plus beneficial postbiotic compounds.
Clinical Strength Flora
Delivers benefits you can actually feel due to appropriate CFU counts with clinically relevant strains that work in powerful harmony.
Proven At The CellularLevel To:
Protect cell health by boosting antioxidant production
Balance healthy inflammation response to protect cells from damage
Recover ATP energy to support healthy cell activity
*These statements have not been evaluated by the Food and Drug Administration. This product is not intended to diagnose, treat, cure, or prevent any disease.
---