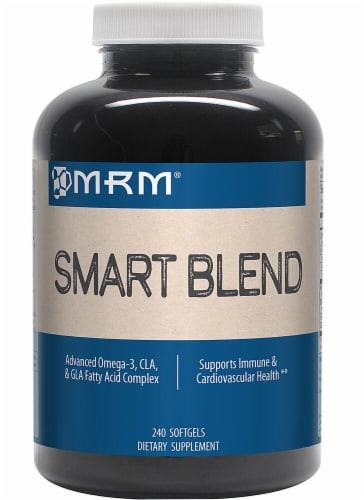 Hover to Zoom
MRM Smart Blend™
240 Softgels
UPC: 0060949214001
Product Details
Smart Blend is cutting edge, proprietary blend of "Smart Fats". We depend on "Smart Fats" to make individual cell membranes and receptors as well as hormone and immune messengers which regulate everything from cardiac and insulin function to inflammatory responses. The effects of our "Standard American Diet" (SAD) has created an imbalance in our dietary fatty acid "pool" that translates into dysfunctional system performance. Regular supplementation with Smart Blend ensures a more balanced lipid "pool" required for whole body balance and function.
Eicosapentaenoic Acid (EPA) and Docosahexaenoic Acid (DHA) are omega-3 fatty acids necessary for cardiovascular, joint and cognitive health. Using only high performance fish oil complexes allows a more unique balanced ratio not found in other common fish oil supplements. this precise ratio is the backbone of this formula to help provide structure and function for better system performance.
Conjugated Linoleic Acid (CLA) is a naturally occurring nutrient found in beef and dairy products, but it''s difficult to get an effective amount of active CLA isomers through diet alone. CLA''s health benefits have been well documented. CLA is an essential part of a healthy lifestyle with regular exercise and a balanced diet.
Gamma Linolenic Acid (GLA) is involved in the production of "good" prostaglandins. Good prostaglandins support cardiovascular, joint and immune health, elicit powerful antioxidant activity as well as promote healthy blood glucose metabolism.
*These statements have not been evaluated by the Food and Drug Administration. This product is not intended to diagnose, treat, cure, or prevent any disease.
---