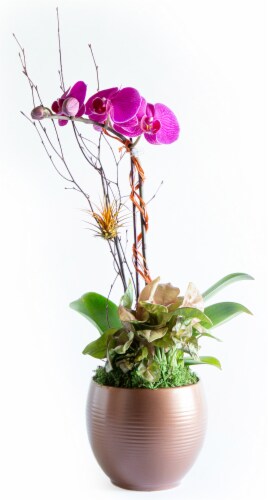 Hover to Zoom
LiveTrends Bronze Orchid Garden (Approximate delivery is 2-5 days)
Product Details
The epitome of beauty and grace, the Phalaenopsis Orchid is the perfect ornamental plant to add joy to any environment. It's elegant blossoms and ease of care makes this a popular choice amongst decorative houseplants.
This double pink Phalaenopsis Orchid comes in a beautiful 6.5" bronze pot and is the perfect size to be displayed as a table-top accent. Bronze pot measures: 6.25" (L) x 6.25" (W) x 5.25"(H).
Simple care: Display your orchid in an area with bright, filtered sunlight. Water once the top inch of soil feels dry, approximately once a week.
Non-Toxic: Phalaenopsis orchids are non-toxic and are safe around both you and your pets.
---