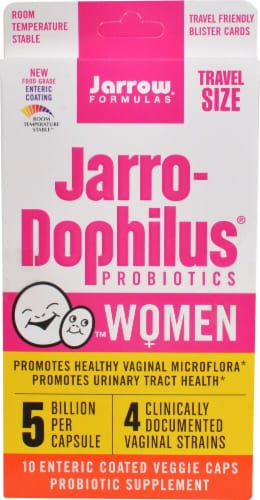 Hover to Zoom
Jarrow Formulas Jarro-Dophilus Women
Product Details
Jarro-Dophilus® Women
• Clinically tested for efficacy in helping to maintain protective, native vaginal flora.
Lactobacillus crispatus LbV 88
Lactobacillus jensenii LbV 116
Lactobacillus gasseri LbV 150N
Lactobacillus rhamnosus LbV 96
• These lactobacilli are the prevalent and dominant species of healthy vaginal microbiota.
• Promotes urinary tract health.
• Patented: L. crispatus LbV 88, L. jensenii LbV 116, and L. gasseri LbV 150N produce hydrogen peroxide (H2O2), which is important for maintaining healthy vaginal flora.
Lactobacilli For Vaginal Health
Documented lactobacilli species present in Jarro-Dophilus acidify the vagina by producing H2O2 and lactic acid, lowering vaginal pH and together promote normal vaginal flora and a healthy microbial environment. Diminished lactobacilli, elevated vaginal pH, reduced H2O2, and antibiotic use can result in recurrent microbial imbalance.
*These statements have not been evaluated by the Food and Drug Administration. This product is not intended to diagnose, treat, cure, or prevent any disease.
---