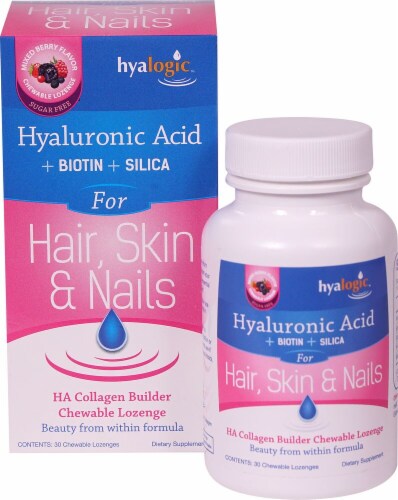 Hover to Zoom
Hyalogic Hair Skin & Nails Mixed Berry Hyaluronic Acid Chewable Lozenge
Product Details
Hyalogic's HA Collagen Builder enhances beauty from within by orally delivering key nutrients that support your body''s natural collagen generation. Collagen is essential for beautiful skin, gorgeous hair and healthy nails. However, collagen diminishes in the body with age. Rather than consume collagen to compensate for its decline, we think it''s better to focus on supporting your body''s own collagen production. That''s why HA Collagen Builder''s unique combination of carefully selected nutrients supports collagen production and vitality.
This formula Biotin, Silica and specific Amino Acids provide the building blocks for collagen generation. Hydrating Hyaluronic Acid (HA) moisturizes and nourishes collagen, which helps plumpen skin, supports collagen elasticity, and promotes healthy hair and nails.
Best of all, this natural healthy and beauty formulation comes as a delicious, sugar-free berry-flavored chewable lozenge.
*These statements have not been evaluated by the Food and Drug Administration. This product is not intended to diagnose, treat, cure, or prevent any disease.
---