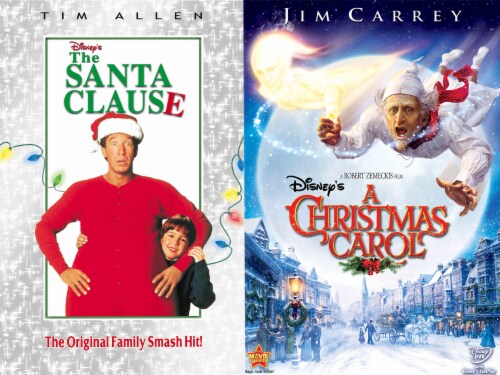 Hover to Zoom
Holiday 2 Pack: Santa Clause and Christmas Carol (DVD)
Product Details
This set includes the following movies on DVD:
The Santa Clause: Divorced dad Scott (Tim Allen) has custody of his son (Eric Lloyd) on Christmas Eve. After he accidentally kills a man in a Santa suit, they are magically transported to the North Pole, where an elf explains that Scott must take Santa's place before the next Christmas arrives. Scott thinks he's dreaming, but over the next several months he gains weight and grows an inexplicably white beard. Maybe that night at the North Pole wasn't a dream after all -- and maybe Scott has a lot of work to do.
A Christmas Carol: Though London awaits the joyful arrival of Christmas, miserly Ebenezer Scrooge (Jim Carrey) thinks its all humbug, berating his faithful clerk and cheerful nephew for their view. Later, Scrooge encounters the ghost of his late business partner, who warns that three spirits will visit him this night. The ghosts take Scrooge on a journey through his past, present and future in the hope of transforming his bitterness.
---