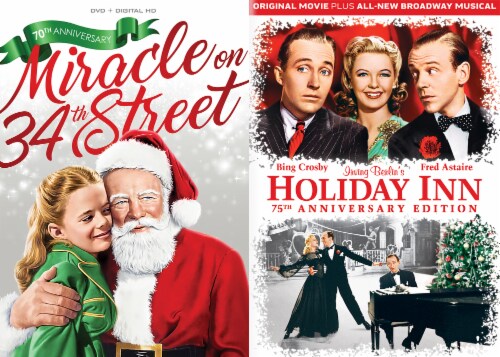 Hover to Zoom
Holiday 2 Pack: Miracle on 34th Street and Holiday Inn (DVD)
Product Details
This set includes the following movies on DVD:
Miracle on 34th Street: In this Christmas classic, an old man going by the name of Kris Kringle (Edmund Gwenn) fills in for an intoxicated Santa in Macy's annual Thanksgiving Day parade. Kringle proves to be such a hit that he is soon appearing regularly at the chain's main store in midtown Manhattan. When Kringle surprises customers and employees alike by claiming that he really is Santa Claus, it leads to a court case to determine his mental health and, more importantly, his authenticity.
Holiday Inn: In this Irving Berlin musical, Jim (Bing Crosby) and Lila are members of a performing trio who plan to quit and run a country hotel. When Lila says she has fallen in love with the dancer in the act, Ted (Fred Astaire), Jim leaves town with a broken heart. After turning the inn into a holidays-only live entertainment venue, Jim winds up booking -- and falling for -- Linda (Marjorie Reynolds). But when Ted shows up at the place after being dumped by Lila, he too sets his sights on beautiful Linda.
---