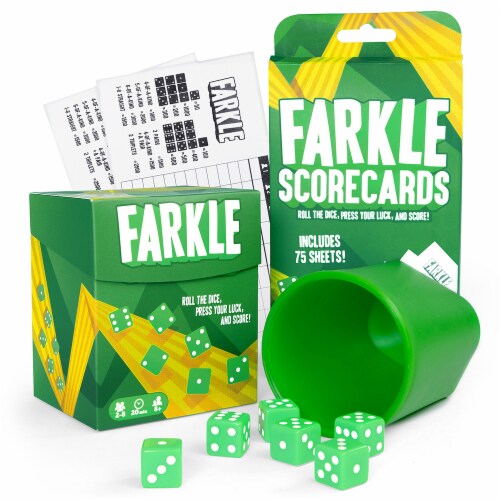 Hover to Zoom
Farkle and 75 Scorecards Bundle
Product Details
Farkle & Scorecards Bundle!
Now you can play Farkle for months to come! This Farkle bundle features the base game with 25 scorecards, a dice cup, 6 dice, and a rule sheet, as well as a bonus pack of 75 replacement scorecards. That's 100 scorecards in total! Each scorecard shows you how to score in Farkle and has plenty of space to write in scores. This game can be played from 2-8 players at a time!
Feeling Lucky?
Farkle is your classic risky dice-chucker. Roll the dice, bank some points, then press your luck! Roll again to score more points, but, if they come up duds, you fizzle out and lose everything! Whether you're playing traditional Farkle, Yard Farkle, or Farkle Hot Streak, this bundle will keep you Farkle-ing for many nights to come! It's an exhilarating addition to dice and party game nights alike!
Why You'll Love It:
This bundle gives you everything you need to play Farkle to the fullest, from 2-8 players in total! There are so many variations of Farkle to play and you can even make your own version with these scorecards! You'll have the dice, dice cup, and scorecards to play right out of the box! Best yet, Farkle and its components can be stored in a convenient, travel-friendly storage box.
---