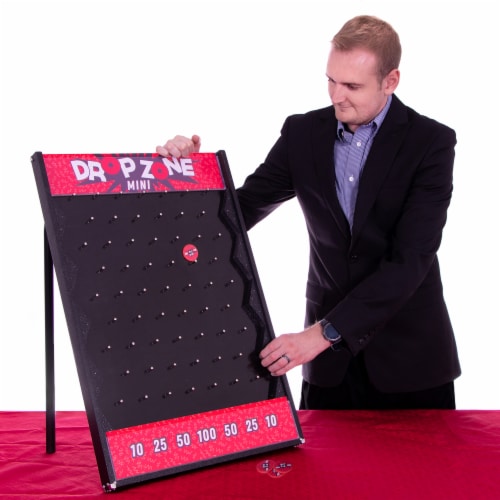 Hover to Zoom
Drop Zone Mini, 26" x 19" Portable Plinko Board
Product Details
Drop Zone Mini!
Need something portable to take with you to trade shows, festivals, and fundraisers? Check out Drop Zone Mini! Based on the popular and much larger Drop Zone Express board, we've made a travel-friendly mini board for your festivals, fundraisers, and parties.
Need something new and exciting for an important business tradeshow, fundraiser, or annual meeting? Need a fun game for your child's birthday party or school carnival? Then you need Drop Zone Mini. Your players will love hearing the classic "Plink, plink, plink" of the pucks as they travel through the steel pegs. Excitement and anticipation will run wild as people wait for their turn!
The removable top panel and bottom panel are completely customizable to fit your specific needs. Prominently display the name of your business or of your child's school on a flat card, remove the Drop Zone Mini sign, and insert your custom creation into the top panel. Advice for making a card that fits your panels: remove the pre-made card from one of the panels and measure it's size, then make your own from that same template! Offer your own set of prizes or points via the bottom panel in the same way. The possibilities are endless.
Why You'll Love It:
All four corners of Drop Zone Express are reinforced with steel covers for added durability, so you won't have to worry about chips or nicks in the paint. The Drop Zone Mini measures approximately 2.15 feet tall, or 26" x 19". Each game comes with 10 pucks that measure 1.5" in diameter. The 7-slot bottom panel is pre-made to show 10, 25, 50, and 100 slots, but you can fully customize your own insert and place it into the bottom panel!
---