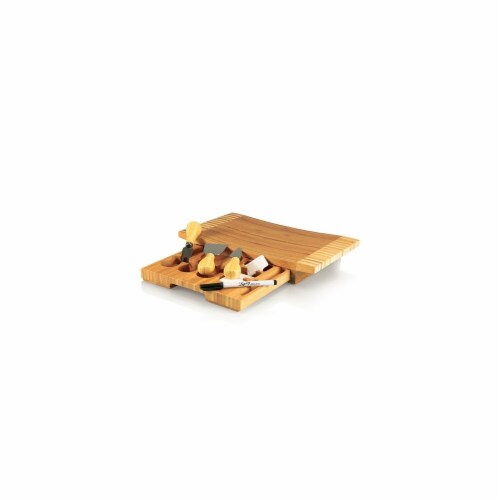 Hover to Zoom
Concavo Cutting Board & Cheese Tools Set, Bamboo
Product Details
prides itself in delivering unique, multi-functional gifts that inspire memories to last a lifetime. Every item is designed to be both attractive, durable and made of the highest quality materials.
The Concavo cutting board and cheese tools set is compact and sleek. It measures 13.5" x 8" x 2" and has a dark bamboo cutting surface and pull-out tools drawer with zebra wood panels/tray handles on either side. The surface of the board is slightly sunken in the center, giving it form and function. It includes three cheese tools, three porcelain cheese markers, and a wet erase pen. Use the Concavo whenever you serve a cheese assortment at your parties and get-togethers!
Features
100% bamboo cutting board and tool handles
108 square inches of cutting surface
A concaved surface that extends past the base of the board creating carry handles
Includes:
1 Wooden cutting board with pull-out drawer to hold cheese tools, 3 Stainless steel cheese tools with bamboo handles, 1 Cheese fork, 1 Crumbly cheese chisel knife, 3 ceramic cheese markers, 1 Wet erase marker
Care Instructions:
Surface wash only with a damp cloth. To prevent wood from warping and cracking, do not submerge in water. Hand wash tools and towel dry immediately after washing. Not dishwasher safe.
Specifications
Material: Bamboo, Stainless Steel Tools With Rubberwood Handles, Porcelain
Color: Bamboo
Drawer: 0.75" H x 6.25" W x 9.5"
---